Obesity is a medical condition characterized by excess accumulation of body fat leading to negative health effects. It is typically defined as a body mass index (BMI) of 30 or higher, which is calculated by dividing a person's weight in kilograms by their height in meters squared.
Obesity is not just a cosmetic issue. It is a chronic medical condition that can increase the risk of developing diabetes, heart disease, high blood pressure, stroke, sleep apnea, certain types of cancer, and other chronic diseases.
The causes of obesity are complex and can include a combination of genetic, environmental, and behavioral factors. Factors that can contribute to obesity include genetic factors, hormonal imbalances, suboptimal diet, sedentary lifestyle, certain medications, stress, and lack of sleep or poor sleep quality.
Health Consequences of Obesity
Health consequences of obesity can include:
Increased body weight: Typically defined by a body mass index (BMI) of 30 or higher.
Excess body fat: Excessive accumulation of body fat, which can be measured using various methods such as skinfold thickness measurements, bioelectrical impedance, or dual-energy X-ray absorptiometry (DXA).
Joint pain: Excess weight can put extra pressure on joints causing pain and inflammation.
Sleep apnea: Obesity is a risk factor for sleep apnea, a condition in which a person's breathing stops and starts repeatedly during sleep.
Increased risk for chronic diseases: Obesity increases the risk of a range of chronic diseases, including diabetes, heart disease, high blood pressure, stroke, certain types of cancer, and others.
How does Dr. Aleem Kanji treat obesity?
Before the consultation

The process for medical weight loss at Ethos Endocrinology begins with scheduling an initial consultation. Upon scheduling and receiving a confirmation, our team releases a weight history questionnaire in your personal portal account. This electronic questionnaire can be completed from the comfort of home or work and takes only 10 minutes to complete. Questions include current and previously tried eating patterns and medications, barriers with progress, level of physical activity, sleep hygiene, and mental health. The questionnaire is reviewed in detail prior to your arrival and serves as the foundation for the 1-hour consultation.
Initial Consultation

Dr. Kanji builds on the weight history with questions to understand your specific concerns and struggles. He evaluates your medical history in detail and assesses eligibility for weight loss medication.
This is followed by a physical exam, and a medical body composition measurement (image of device below) to serve as the baseline for your weight loss journey. Dr. Kanji reviews and analyzes your baseline body composition report with you. The consultation concludes with recommended lab tests to evaluate your metabolic and hormone health.
Following the initial consultation, 2 documents are uploaded to your portal account:
A copy of your body composition report
A customized handout describing the various weight loss medications to guide your selection.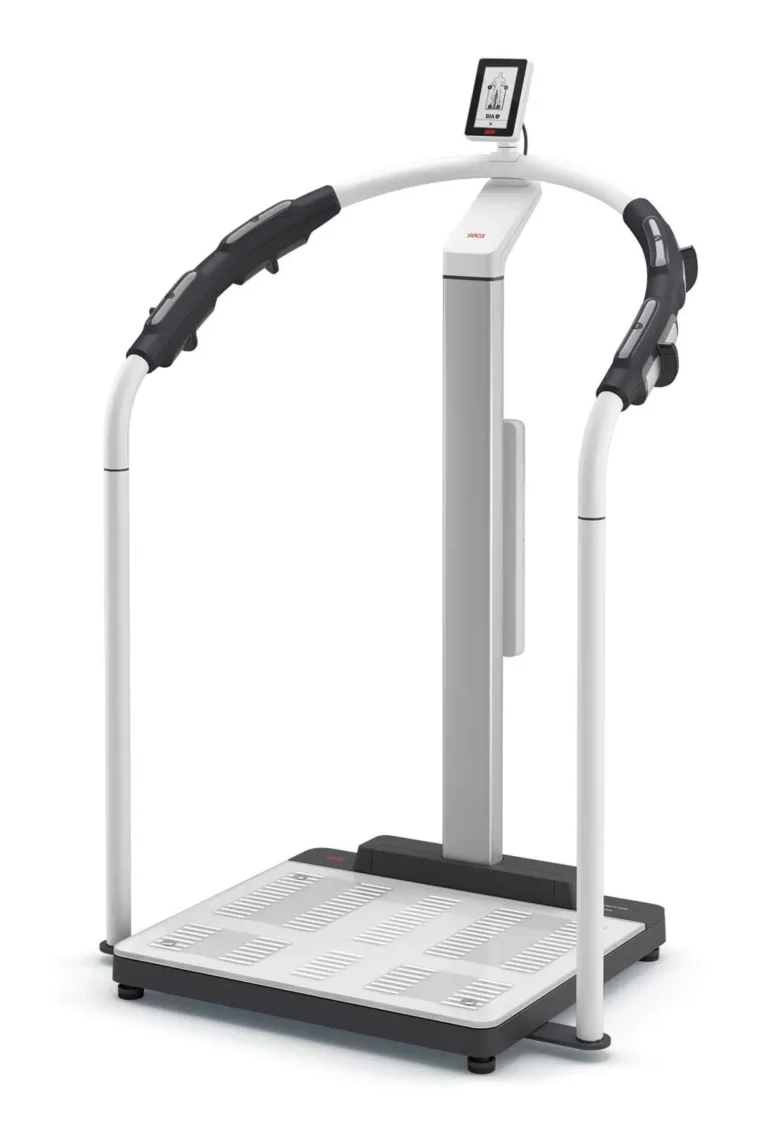 2-Week Follow-up

The first follow-up visit is approximately 2 weeks after your initial consultation and can be completed in-office or virtually based on need and preference. Lab results are reviewed with you by Dr. Kanji. Then your personalized plan is discussed. The overall goal of your plan is loss of excess fat while minimizing muscle loss.
Your personalized plan includes:
Nutrition

: Customized calorie and protein targets based on your body composition

Physical activity

: Tailored to your current level, eventually adding resistance movements to minimize muscle loss

Medication

: Options are reviewed and Dr. Kanji will guide medication selection based on medical history, your preferences/concerns, and cost/insurance coverage

Months 1-6
Active weight loss usually occurs in the first 6 months but may take up to 1 year. During this phase, follow-up visits will be monthly. Follow-up visits vary between office and virtual, depending on the need for repeat body composition analysis. During each follow-up visit, nutrition, physical activity, and medication are reviewed and adjusted as necessary.
Months 6-12+

After transitioning to the maintenance phase, follow-up visits gradually decrease in frequency from every month to every 2 months and eventually every 3 months. The maintenance phase can be more challenging than the active loss phase, and it is dynamic in frequency. For example, some individuals require follow-ups back to monthly to prevent excess weight regain, before decreasing back to every 2 or 3 months. During maintenance visits, nutrition, physical activity, and medication are reviewed.
Frequently Asked Questions about Weight Loss
Am I a Candidate for Medical Weight Loss?
You may be a candidate for medical weight loss if you have struggled with losing weight or maintaining weight loss. For use of weight loss medication, one of the following criteria must be met:


Body Mass Index (BMI) ≥ 30kg/m2
BMI ≥ 27kg/m2 with the presence of a weight-related condition, such as high blood pressure, prediabetes, type 2 diabetes mellitus, elevated cholesterol, heart disease, obstructive sleep apnea, nonalcoholic fatty liver disease (NAFLD), etc.
Body fat percentage ≥ 32% for women
Body fat percentage ≥ 25% for men


What weight loss medications do you use?
Dr. Kanji discusses and evaluates your medical history in detail to determine if weight loss medication is indicated and safe to use. Medications that can be used for weight loss include Mounjaro (tirzepatide), Wegovy (semaglutide), Ozempic, Saxenda, Metformin, Phentermine, Qysmia, and Contrave.
Do you take insurance?
We are out-of-network and do not bill insurance plans for visits. We are happy to see and work with you, irrespective of your insurance.
Can I use my insurance for lab tests, imaging, and medications?
You can use your health insurance for lab tests, imaging, and medications if you wish. We offer the option of deeply discounted "cash" prices for lab tests that we negotiated. We created this alternative so our patients can choose the most cost-effective option.
Why are you out-of-network with insurance?
To prioritize the patient-doctor relationship. Dr. Kanji chose to not be bound by insurance companies in order to make his patients his top and only priority.
Billing insurance requires extra staff, complicates office workflow, and increases costs. More patients need to be seen, which means less time with each. Contracting with you directly eliminates these costs. You get faster appointment scheduling, minimal wait times, and a comfortable, unhurried visit for your care.