Hypothyroidism is too little production of thyroid hormones, T4 and T3, from the thyroid gland.
What Causes Hypothyroidism?
Causes of hypothyroidism include:
Hashimoto's thyroiditis: This is when the immune system mistakenly attacks the thyroid gland, decreasing the thyroid gland's ability to produce thyroid hormone. This is the most common cause of hypothyroidism.
Atrophic thyroiditis
Surgical removal of half or all of the thyroid gland
Radiation treatment
Medications
Damage to the pituitary gland
Rare disorders that infiltrate the thyroid gland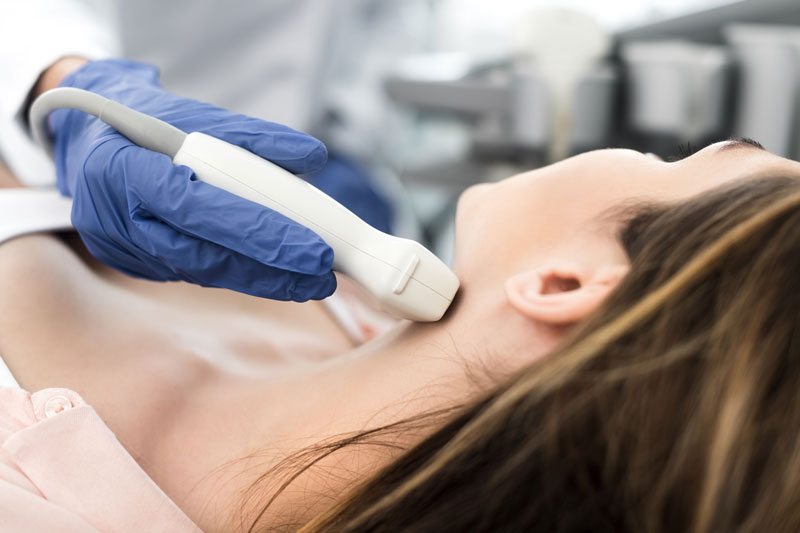 Symptoms of Hypothyroidism
Symptoms of hypothyroidism can include:
Fatigue
Difficulty tolerating cold
Dry skin
Thinning hair
Constipation
Brain fog
Depression
Weight gain
Irregular menstrual periods
How does Dr. Kanji treat hypothyroidism?
Though hypothyroidism can't be cured, it can be managed by replacing the thyroid hormone the thyroid gland can no longer make. The thyroid hormone replacement will bring the thyroid levels back to normal.
Thyroxine (T4): Taken once daily by mouth, it fully replaces the low T4 level and successfully treats the symptoms of hypothyroidism in most patients.
Liothyronine (T3): For the few patients who do not feel completely normal taking T4 alone, the addition of T3 may be of benefit.
Long-term follow-up: Regular monitoring of thyroid hormone levels is recommended. If you are not taking enough thyroid hormone, some of the symptoms of hypothyroidism may continue. If you take too much thyroid hormone, you may have symptoms of an overactive thyroid, including anxiety, palpitations (a racing heart), trouble sleeping, and shaking.
Frequently Asked Questions about Hypothyroidism
What lab tests are used for testing for hypothyroidism?

TSH: TSH is thyroid-stimulating hormone released from your pituitary gland. TSH will be high if there is not enough thyroid hormone. Normal ranges for TSH vary by lab and are dependent on age (TSH normally rises as we age).
Free T4 and Total T3: T4 and T3 are thyroid hormones from the thyroid gland. A low level of free T4 and/or T3 test can suggest hypothyroidism.
Thyroid Peroxidase (anti-TPO) Antibody: This test detects the presence of antibodies targeted against the thyroid. People with Hashimoto's thyroiditis have these antibodies, but people whose hypothyroidism is caused by other conditions may not. TPO antibodies may also be present in people without hypothyroidism.
What are complications of hypothyroidism if left untreated?
Goiter
Heart problems such as enlarged heart or heart failure.
Mental health issues such as depression.
Myxedema coma, a rare life-threatening condition that can result from long-term untreated hypothyroidism. Myxedema coma requires immediate emergency treatment.
Birth defects. Babies born to women with untreated hypothyroidism are more likely to be stillborn or premature. They may also have lower IQ later in life due to underdevelopment of the brain.