Menopause is a natural transition experienced by women as they age, marked by the end of menstrual cycles and an increased risk for health issues. Menopause is formally defined by the absence of a menstrual period for 12 months.

It's important to keep informed about potential changes in your body during this stage of life so that you can adjust accordingly throughout its duration.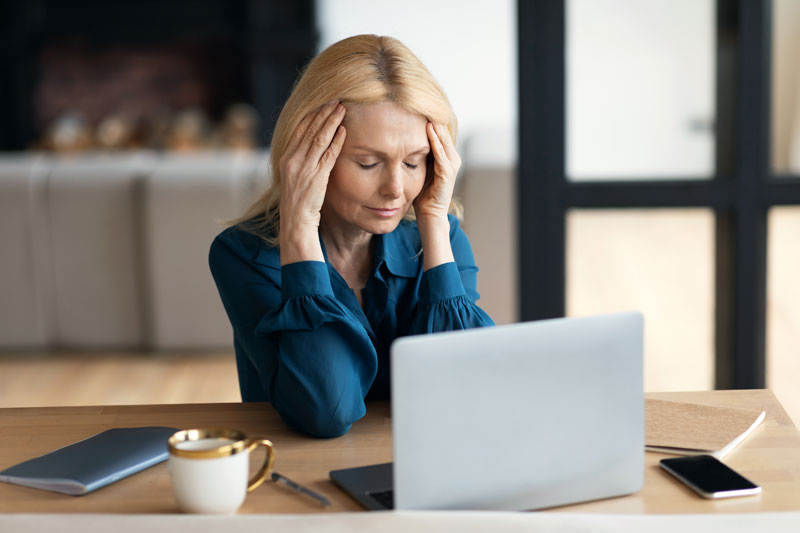 Menopause results from the depletion of ovarian follicles. As a woman ages, the number of ovarian follicles decline, leading to a decrease in the production of the hormones estrogen and progesterone. The decrease in estrogen, particularly estradiol, can result in symptoms of menopause (listed below).
In addition to natural aging, other factors can contribute to the onset of menopause, such as medical treatments that damage the ovaries (such as chemotherapy or radiation therapy), surgical removal of the ovaries (oophorectomy), or certain autoimmune disorders or genetic conditions that cause premature ovarian failure.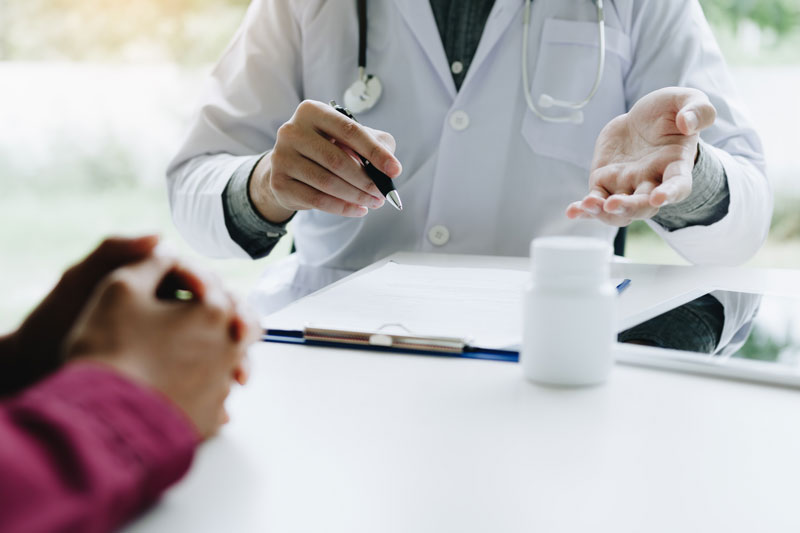 Irregular or absent periods
Hot flashes
Night sweats
Trouble falling asleep
Mood changes
Brain fog
Weight gain
Thinning hair
Vaginal dryness
Treatment Options for Menopause
Treatment options for women experiencing symptoms of menopause include:
Hormone Replacement Therapy (HRT): The use of estrogen and sometimes progesterone to replace the deficient hormones. The safety and benefits/risks of HRT will be assessed for your personal situation and discussed by Dr. Kanji.


Non-hormone medications: Certain medications, such as selective serotonin reuptake inhibitors (SSRIs), can be used to treat hot flashes and certain other symptoms associated with menopause.


Lifestyle changes: Changes that can help with symptoms of menopause include incorporating soybeans in the diet, identifying and avoiding triggers that cause hot flashes, dressing in layers of clothing, staying hydrated, and regular exercise.


It's important to talk to your endocrinologist to determine the best treatment options. The effectiveness and safety of different treatments can vary depending on your individual circumstances and medical history.
Frequently Asked Questions about Menopause
What is the average age of menopause?
The average age of menopause in the United States is about 51 years old.
When does the transition to menopause occur?
The transition to menopause begins on average 4 years before menopause.
What is the best diet for women in menopause?
Though there isn't one particular best diet for menopause, there are several dietary components that can optimize a diet for a woman in menopause, including:
Calcium: Menopause increases the risk of osteoporosis, which is a decrease in bone mass resulting in weak bones. Calcium, in combination with vitamin D, has been shown to reduce bone loss in postmenopausal women.


Fruits and vegetables: In this meta-analysis, a higher consumption of fruits and vegetables was associated with a lower risk of death (mortality).


Protein: Evidence suggests an increased requirement for protein as we age. The recommended dietary allowance (RDA) for protein is 0.8g/kg body weight.


Soy: Some studies suggest that soy products can reduce the frequency of hot flashes. Soy and certain other plant-based products contain isoflavones, which can be thought of as a plant estrogen. These are converted in the body to a molecule that acts on the estrogen receptors.